Service Specials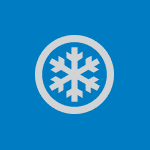 Complimentary Winter Inspection
Expires: 11/30/2017
FREE
Winter is coming, be ready for all that the Colorado elements can throw at us by getting your Honda prepared for winter.

Coolant Freeze Test

Washer Fluid Freeze Test

Battery Cold Weather Stress Test

Tire Tread Depth, Wear & Integrity Check

Suspension Inspection

Wiper Inspection

Brake Inspection
Schomp Honda
1003 Plum Valley Lane, Highlands Ranch, CO
Service: (303) 309-0406
Complimentary Winter Inspection
FREE
Expires: 11/30/2017
Winter is coming, be ready for all that the Colorado elements can throw at us by getting your Honda prepared for winter.

Coolant Freeze Test

Washer Fluid Freeze Test

Battery Cold Weather Stress Test

Tire Tread Depth, Wear & Integrity Check

Suspension Inspection

Wiper Inspection

Brake Inspection
We've Done the Shopping For You
Save over local independent shops!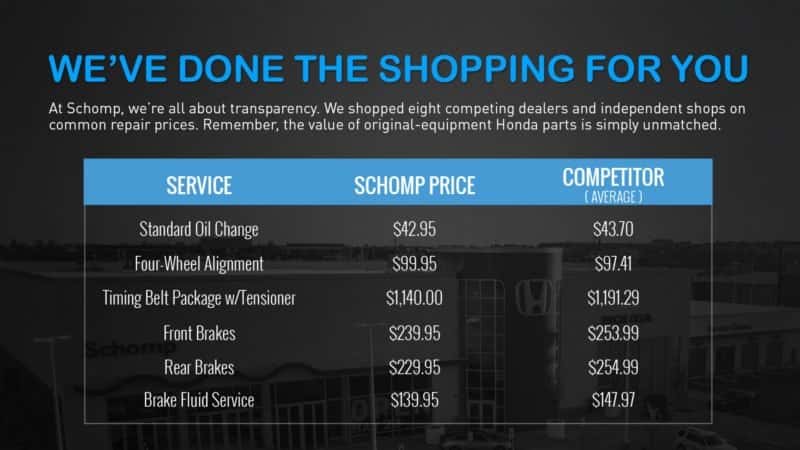 Schomp Honda
1003 Plum Valley Lane, Highlands Ranch, CO
Service: (303) 309-0406
We've Done the Shopping For You
Save over local independent shops!
Expires: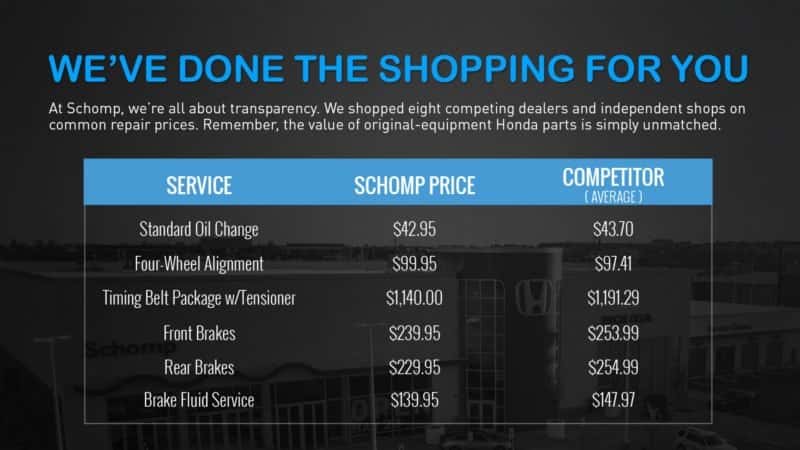 *Pricing current as of 5/30/17. Competitor average based on a combination of eight independent shops and dealerships within 15 miles of 80129. Pricing reflects our/their regular price without any coupons or specials applied. Plus taxes and shop charge(s), where applicable. Additional repairs may be required or suggested at an additional cost. Pricing subject to change without notice.