Schomp Salutes Memorial Day Event Focuses on Honoring U.S. Military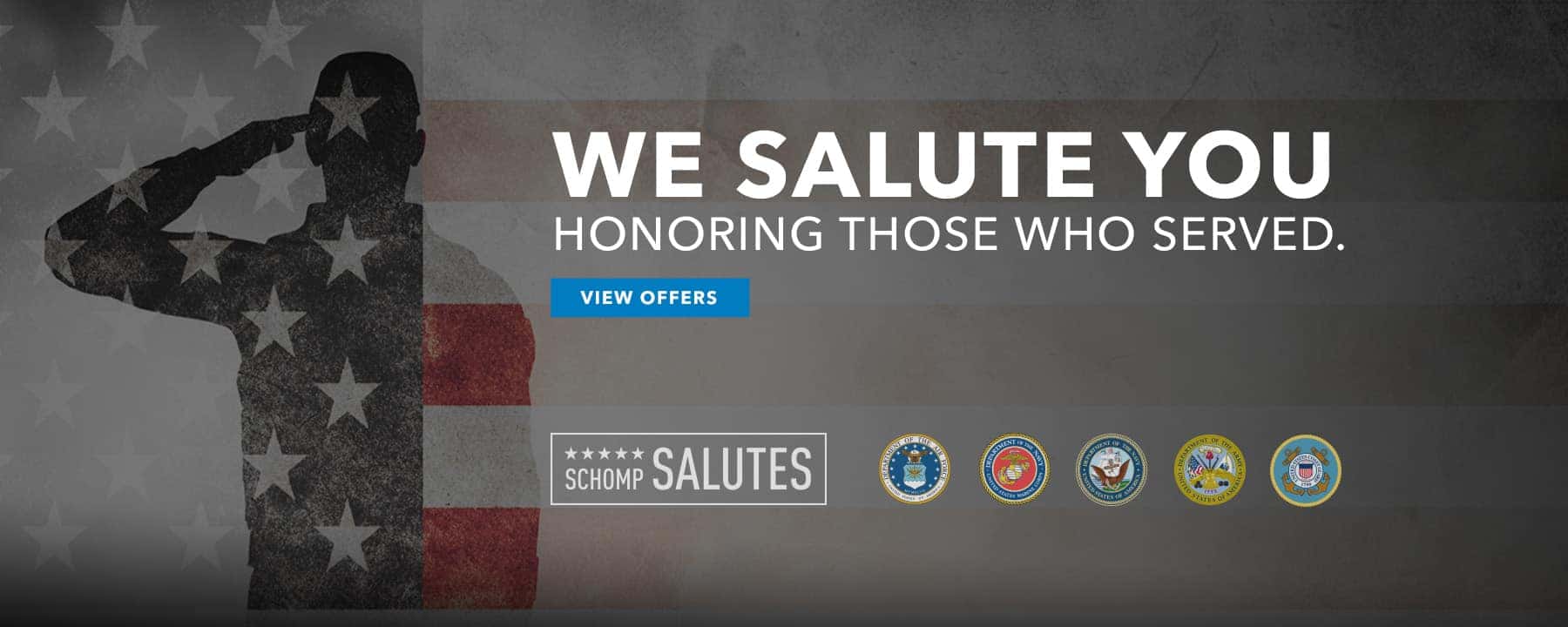 Schomp Automotive joins millions of Americans to celebrate the United States Armed Services by dedicating the entire month of May to our servicemen and women with the Schomp Salutes Memorial Day Event. 
Memorial Day was originally conceived to honor our nation's fallen warriors. It has grown to encompass all members of the active military and veterans. Recent world events have reinforced for us how important these men and women in uniform are to protecting our democracy.
The Schomp Salutes Memorial Day Event, now through the end of May, is our way of thanking the men and women who serve and sacrifice to keep America safe. We appreciate the members of the six branches of the United States military: The Army, Navy, Marine Corps, Air Force, Coast Guard, and the latest addition – the U.S. Space Force. 
Throughout the month, as part of the Schomp Salutes Memorial Day Event, we will honor military personnel in our showrooms and offer them and their immediate family members exclusive savings on sales, service, and parts. 
SCHOMP SALUTES WORKOUT EVENT
Schomp Automotive has joined with the locally based Danny Dietz Foundation to support its mission to create community improvement and awareness by training and mentoring at-risk youth. Danny Dietz was a proud Heritage High School graduate from Littleton, Colorado. A U.S. Navy Seal serving in Afghanistan, Danny died in the line of duty on June 28, 2005.
Join us on May 22nd for the 3rd annual Schomp Salutes Workout Event. There will be two flights of workouts – one for beginners and one for intermediate, followed by a 5k tour of duty run, and then topped off by a barbeque with beer and food!  Click here to register for this opportunity with the Danny Dietz Foundation & other Navy seals.