Help Hurricane Harvey/Irma's Youngest Victims: Provide Tools for a Fresh Start

Here in Colorado, kids have been in school for a month. In South Texas and Florida, it's a different story. You and your family can help children affected by recent hurricane activity resume normal lives after the destructive storm and its aftermath by donating new school supplies.
Schomp Honda and the Rocky Mountain Honda Dealers are teaming up with you to provide tools for a fresh start to kids in the affected areas. Together, we can help with the things they need to get back to school, because school is about more than education. It's a shelter, a safe place, and for some, it's a second home.
Help us help the children affected by Hurricane Harvey and Irma. Bring your donations of school supplies to Schomp Honda on Plum Valley Lane in Highlands Ranch by September 30th. We'll fill backpacks full of the tools to give these kids a fresh start in school and ship them to the flooded areas.
School Supplies Needed:
• #2 Pencils and Pencil Sharpeners
• Plastic Pencil Boxes or Zippered Pouches
• Pink Beveled Erasers
• Crayons (16 min.) and Colored Pencils
• Washable Markers
• Low-Odor Dry-Erase Markers
• Highlighters
• Erasable Ballpoint Pens (Black, Blue & Red)
• 3-Hole Wide-Ruled Notebook Paper (Package of 200 Sheets)
• Wide-Ruled Notebooks
• Composition Books
• Assorted Construction Paper
• Index Cards
• Pocket Folders
• 3-Ring Binders
• Subject Dividers
• Heavy-Duty Poly Portfolios
• Glue Sticks and Elmer's White Glue
• Scissors – 5" Blunt and Pointed
• Protractors and Rulers
• Tissues and Paper Towels
• Hand Sanitizer, Soap and Wet Wipes
• Lunch Boxes and Bags
• Ear Buds and Headphones
• Visa Gift Cards
• Backpacks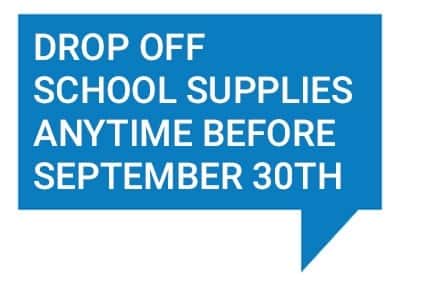 Service Discount for Donating
As a gift for supporting this very important drive, Schomp Honda is offering you a $5.00 discount at our Service Department for every school supply item you bring in (up to $20). Get more details here.
Schomp Honda and the Rocky Mountain Honda Dealers care. We know that in similar circumstances we'd need a helping hand, too. Thank you tremendously for your donations and support!
A message from Jason White